Bring Fair Trade to Your Fall Feast!
We love cooking and baking with fairly traded and organic ingredients. That's why we've put together a selection of our favorite feast-worthy recipes for you to make at home and share with family and friends! This Thanksgiving, highlight a few special ingredients that give back to small-scale farmers around the world.
Pumpkin Chocolate Bundt Cake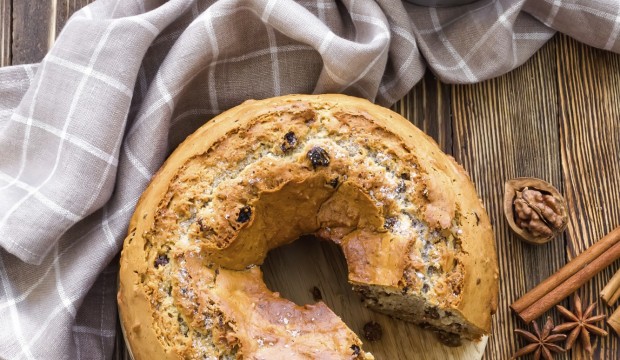 Ingredients
2 ½ cups sugar
1 cup oil
3 eggs
3 cups flour
2 tsp. baking soda
1 tsp. cinnamon
1 tsp. nutmeg
1/2 tsp. salt
1/4 tsp. clove
1 can pureed pumpkin
1 cup Equal Exchange Organic Bittersweet or Organic Semisweet Chocolate Chips
Directions
Preheat oven to 350 degrees. Set the oven rack at the second lowest position. Grease and flour a Bundt pan. In a large bowl, blend the sugar and oil. Add the eggs one at a time, beating well after each addition.
In a separate bowl, combine all dry ingredients. Begin adding the dry ingredients to the egg mixture, alternating with the pumpkin, and blending as you go. Fold in the chocolate chips, then fill the Bundt pan with the batter. Bake for approximately 1 hour, or until a toothpick comes out clean.
Adapted from Food.com.
Caramelized Cashews with Cayenne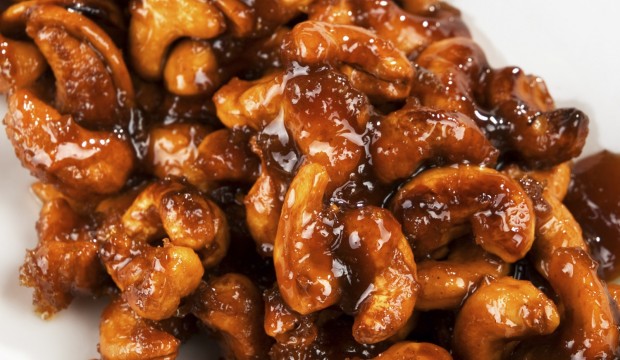 Ingredients
2 tsp Equal Exchange Organic Extra Virgin Olive Oil
2 cups Equal Exchange organic unsalted natural cashews
1/4 cup pure maple syrup (preferably Grade B)
1 1/2 teaspoons cumin seeds
1 teaspoon fine sea salt
1/2 teaspoon cayenne pepper

Directions

Preheat oven to 350°F. Lightly brush a baking sheet with 1 tsp olive oil. Toss cashews and all remaining ingredients in medium bowl. Spread cashew mixture evenly in single layer on the prepared baking sheet.

Bake nuts until golden brown and coated with maple syrup mixture, stirring occasionally, about 20 minutes. While nuts are baking, brush a sheet of aluminum foil with the remaining oil. After removing nuts from the oven, immediately pour them out onto foil, spreading evenly. Cool 10 minutes, then separate and break apart any nut clusters.

Adapted from Bon Appetit Magazine.
Sausage Gravy
Ingredients
1 lb ground sausage
2 tablespoons flour
1 cup milk
1 cup water
1/4 cup brewed Equal Exchange coffee
salt and pepper to taste
Directions
Brown the sausage in a cast iron skillet. Add the flour and cook until brown. Add milk and water. Simmer until the gravy begins to thicken. Stir in the brewed coffee. If the gravy becomes too thick, add more milk. Serve over biscuits!
Butternut Squash Soup with Cashew Cream
Ingredients
½ cup Equal Exchange organic unsalted natural cashews
2 cups roasted butternut squash or 1 can squash or pumpkin puree
4 cups vegetable stock
1 tsp salt (to taste)
1/4 tsp nutmeg
Black pepper to taste
Directions
Soak cashews in water for at least 2 hours. Drain cashews, then put them in a blender with 1 cup of the stock. Blend on high for several minutes, until the cashew cream is very smooth, with no grittiness.
Combine squash with remaining broth in a stock pot and puree with an immersion blender. Heat on medium-low until the soup is hot. Add salt, pepper, and nutmeg. Stir in cashew cream. If soup is too thick, add a bit more broth. Adjust salt and pepper to taste.
This creamy soup is completely dairy free.
Roasted Cauliflower with Coffee Sauce
Ingredients
1⁄4 cup plus 2 tbsp. Equal Exchange Organic Olive Oil
1 tsp.finely ground Equal Exchange coffee
2 heads cauliflower (about 4 1/2 lbs.), cored and cut into 1 1⁄2-inch florets
Kosher salt and freshly ground black pepper
2 shallots, minced
3/4 cup brewed Equal Exchange coffee
1/4 cup plus 2 tbsp. whiskey
3/4 cup heavy cream
1/4 cup toasted hazelnuts, chopped
3 tbsp. roughly chopped tarragon leaves and sprigs
Directions
Heat the broiler. In a large bowl, whisk 1⁄4 cup olive oil together with the finely ground coffee. Add the cauliflower and season with salt and pepper. Toss the cauliflower in the oil until evenly coated, then spread the cauliflower out evenly on two baking sheets. Broil the cauliflower one baking sheet at a time, turning as needed until tender and slightly charred, about 10 minutes.
While the cauliflower is broiling, heat the remaining 2 tablespoons olive oil in a 10-inch skillet over medium-high heat. Add the shallots and cook until lightly caramelized, about 3 minutes. Pour in the brewed coffee and whiskey and bring to a boil. Reduce the heat, simmer and cook until the liquid has almost evaporated, about 5 minutes. Stir in the cream, season with salt and pepper, and remove the sauce from the heat.
Transfer the cauliflower to a serving platter, drizzle with the coffee sauce, and top with hazelnuts and tarragon.
Adapted from Saveur.
Mocha Pecan Pie
Ingredients
Crust:
1 1/4 cups flour
1/2 teaspoon salt
1/2 cup shortening
3 tablespoons cold water
Filling:
3 large eggs
1/2 cup packed brown sugar
1/4 cup maple syrup
1/4 cup dark corn syrup
2 tablespoons unsalted butter, melted
5 oz. (1 1/2 cups) coarsely chopped roasted salted pecans
1/3 cup Equal Exchange Panama Extra Dark Chocolate, broken into pieces
2 tablespoons strong brewed Equal Exchange coffee
Directions
For Crust: Sift flour and salt into a bowl. Using a pastry blender, cut in 2/3 of the shortening until the mixture resembles very fine crumbs. Cut in the remaining shortening coarsely. Do not overwork. Sprinkle with cold water, and stir with a fork until it clumps together, adding more water if necessary. Squeeze into a ball, then roll out on a floured board. Transfer to a 9-inch pie plate.
Preheat oven to 400F. Blend the eggs, sugar, and syrups together. Melt the chocolate together with the butter. Mix all filling ingredients together. Pour filling into unbaked crust. Bake for 40 minutes, or until filling is slightly puffed and set. Cool on a rack.