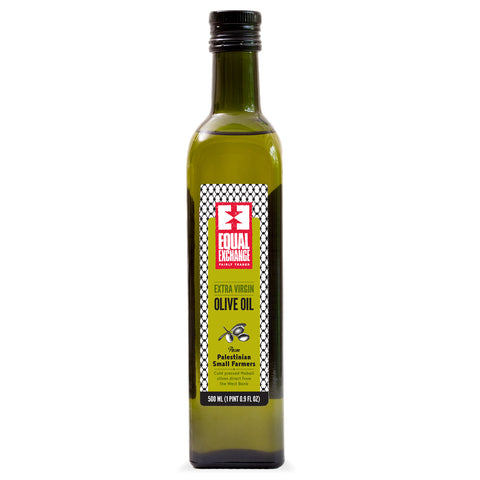 Extra Virgin Olive Oil, 500ml bottle
This extra virgin olive oil is made from Nabali olives, an indigenous Palestinian variety that produces one of the highest quality oils in the world. Cold-pressed with a rich, peppery flavor, this olive oil can be used for cooking, baking, and dipping. This season, the certifiers weren't able to visit the farms, so although this is the same product as previous years, it is not certified organic.
Read more about the certification difficulty below.
6 Pack contains six 500ml bottles of olive oil.
$72.25
$85.00
you save $12.75
Ingredients
Nutrition Facts
Economic development in the West Bank
What do our roast names mean?
At our solar-powered roastery in West Bridgewater, Massachusetts, our worker-owner team batch roasts and conducts production cuppings daily to bring out the best characteristics in each harvest. With four primary roast levels, we think there's a favorite here for everyone.
Medium Roast: expect the unique citrus, nutty, fruity, or floral notes of each coffee to shine through.
Full City Roast: you'll get a bit more of the caramel flavor that comes from the roasting process.
Vienna Roast: starts to bring the smoky aroma and smooth and rich body of a darker roast.
French Roast: with the natural oils fully expressed, it's an intensely dark and smoky experience akin to dark chocolate.